Charles Frederick Decker was born in Germany in 1832. He arrived in Philadelphia in his late teens and oral tradition suggests he worked at the Remmey Pottery.
In 1857, at the age of 25 he established the Keystone Pottery in Philadelphia. (Eight years later he was an honorary pallbearer for Lincoln.) Decker and his first wife Catherine had two sons. Charles Frederick, Jr. was born in Philadelphia in 1856, according to Miller. William Decker was born in Delaware in 1859. William's birth is the clue to an as yet unexplained stay in Delaware. Editors note: Decker's time in Delware is now well documented. See reference on Delaware pottery in Background essay. Catherine died before the Civil War. Decker then married Sophia Hinch. Their sons were Fred Decker, again, born in Delaware and Richard Henry Decker, born in Pennsylvania.
After 1869 Decker moved to Virginia, six miles north of Abingdon. The pottery he operated there was located on land owned by a man named Mallicote (Mallicoat).
In 1872 he bought land in the Nolichucky River Valley near present day Johnson City, Tennessee. For a year or so he operated in both Virginia and Tennessee. He was one of a number of potters who settled in the region during the early years of Reconstruction.
Initially, he potted at what is known as the Saltz farm, presumably to make bricks for his permanent home to be built less that a mile away. In addition to the bricks, he made stoneware downspouts for his house and cobalt decorated tiles for a patio. One of these tiles may be seen in the Decker Collection at the Tennessee State Museum in Nashville.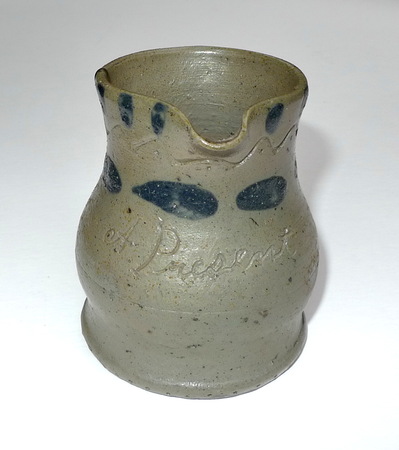 Eventually, his main pottery was located just down the hill from his home and many of the buildings still stand today. Decker descendants continue to own the home and land where the pottery operated. He named his Chucky Valley pottery the same that he had used in Pennsylvania, Keystone Pottery. His pottery was marketed not only in East Tennessee, but also in North Carolina, Virginia and Kentucky. Locally, it was sold in a store owned by Decker and a man named Davis.
An 1873 Jonesborough newspaper contains an advertisement cited by Miller for Decker pottery. The ad claims "a superior article of Drain Pipe, which every farmer should use to drain their Swamp lands, as it will last almost forever." The public was invited to examine the "fine specimens" of stoneware jars, jugs, and pitchers. The ware usually sold for ten cents per gallon.
The Manufacturers' Census of 1880 indicates a well-run pottery employing six people. Skilled workmen were paid $2.00 a day, and unskilled 40 cents. He had a capital investment of $1600.00. It soon became more than a family pottery, operating approximately eight months of the year with as many as 25 employees at a time.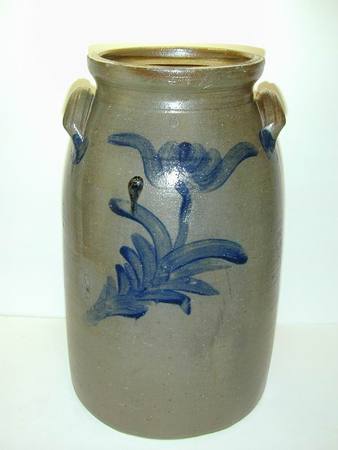 Decker and his four sons, as well as Theodore B. Fleet*, James H. Davis and a man by the name of Orton produced the usual utilitarian objects, as well as the earlier mentioned drain pipe, yard ornaments, grave markers, banks, tobacco pipes and face jugs.
Cobalt decoration was brushed on in floral designs with dots and swags. Pin pricks, screw head impressions and some decorative stamps were also used. However, the larger share of surviving objects and sherds indicate the use of manganese slip which shows a yellow "flashing" probably due to the salting of the kiln. Rarely does one find signed pieces. When found, they generally are signed in script on or near the bottom; and they are signed Charles Sr. or Jr. or William. Charles Sr.'s more elaborate pieces are signed with impressed block letters and then brushed with cobalt.
Charles Decker, Sr. Germany 1832
Charles Decker, Jr. PA 1857
William Decker DE 1859
Fred Decker DE 1863
Richard Henry Decker PA 1866
The above birth dates and locations are found in Smith and Rogers.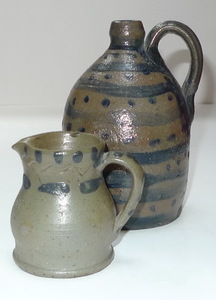 After Decker Sr.'s second wife died in 1886 he married a widow in her fifties, Susan Elizabeth Broyles Gefellers. She died in 1909. The pottery remained in operation until around 1910. Pieces from this late date are frequently covered with a manganese slip. Charles Sr. died in 1914.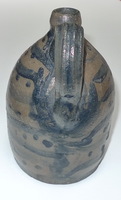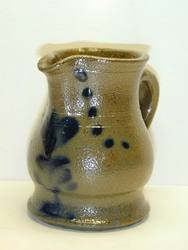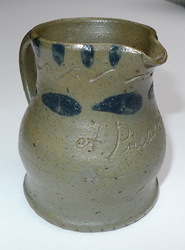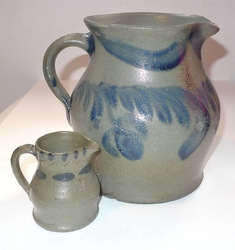 ---
---